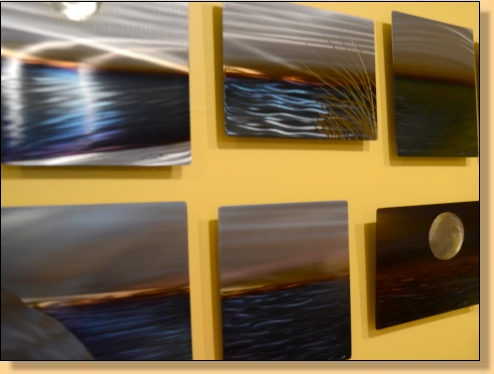 For over 25 years the Ruth Conklin Gallery, nestled in the beautiful village of Glen Arbor, Michigan, has brought the natural beauty of the shores of Lake Michigan to life through exquisite artwork and handcrafted pieces created by over one hundred talented artists. Owner Ruth Conklin – an accomplished artist herself – delights in exploring, capturing and exhibiting the essence of the northern Michigan lifestyle in her gallery.

We warmly invite you to peruse this site and discover the depth of Ruth's longtime passion, from the rolling sands of the Sleeping Bear dunes, a local favorite, to breathtaking Lake Michigan sunsets and majestic white pines. Enjoy!

Please feel free to contact the gallery directly if you see an item that rekindles your own special northern Michigan experience. We're happy to be of assistance!
---
What's New at the Gallery this Year?

LaCosse Studios



Michigan natives, Scott and Victoria LaCosse create contemporary landscapes in a non-traditional medium: steel. Their combination of metalsmithing, metal fabrication and color layering (which you normally see in jewelry) creates a new medium where the play of light facilitates ever-changing moods in each piece. Their creations are produced on layers of metal, which are carved through with hand-held tools, from start to finish. Painting with fire through the use of a torch, then the application of multiple coats of museum grade lacquer gives the final finishing protective touch, ensuring years of carefree enjoyment for each hand-made original.


---


Bill Gareiss

Bill Gareiss makes rustic stone lamps and fireplace lamps are made using beautiful Michigan Lake stones and authentic masonry with stone and mortar, you can even burn a little candle in the fireplace if you want, this really adds to the charm and beauty of the lamp! He also creates floor lamps and do many custom rustic furnishings projects using stix and stones. Many customers will provide their own rocks from their favorite beach or vacation and ask him to build something special for them, and we have a large collection of Bill's work at the gallery this year.




---






Corbét Company

Corbé is a ceramic design studio handcrafting porcelain wares that are simple and useful, built for the modern home and table. Balancing the precision of technology with warmth of hand, their ceramic wares are inspired by mid-century design, traditional craft, and small-scale, American manufacture. These high quality ceramic wares and storied objects, are passed with pride from their hands to yours.




---


Ancizar Marin

Ancizar Marin creates unique sculptures primarily in bronze and fiberglass. That his figurative forms are relatively inexpensive encourages and allows collectors to purchase multiple sculptures at a time. For Marin, this achieves his desire to encourage the figures to engage with one another in dynamic groupings that can be arranged and rearranged at will. The shadows thrown off by the glossy little men and women, who alternately squat, leap, lunge, stretch, and perform arabesques, further energize the walls against which they are installed, so that the spatial sum of the parts far exceeds the individual sculptural components.




---


Vegetabowls

Vegetabowls™ is a small ceramics company in Buffalo, NY. Each item is handmade by Melanie and Justin Mckenney. The inspiration to create this line of slip-cast functional pottery comes from nature. By translating nature's designs into clay we are able to invoke a new appreciation for everyday objects. By casting directly from the actual fruit or vegetable, they are able to replicate these designs in each bowl.




---



Sharon Donovan

Sharon Donovan is a jeweler and metalsmith, who was born "attracted to shiny objects". She incorporates a variety of materials from richly colored glass seed beads to fresh water pearls all woven in to a fine wire mesh presentation. Each piece is stunning and definitely makes for an eye catching conversation starter!


---



Ruth Conklin Gallery
6632 M-109 | POB 343 | Glen Arbor, MI 49636


ph: 231-334-3880 | fx: 231-334-3335
Open Daily May 1 to October 31





© Copyright 2000-15 RuthConklinGallery.com, All Rights Reserved | Web Site Design & Hosting by Northern Web Services, Inc.