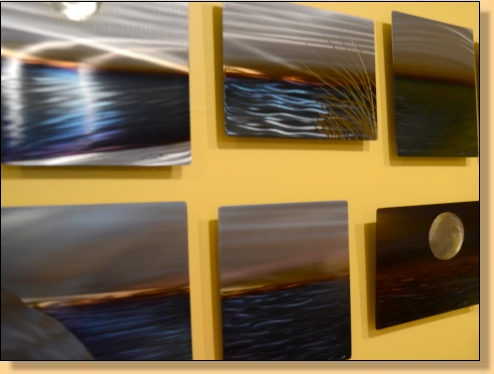 For over 25 years the Ruth Conklin Gallery, nestled in the beautiful village of Glen Arbor, Michigan, has brought the natural beauty of the shores of Lake Michigan to life through exquisite artwork and handcrafted pieces created by over one hundred talented artists. Owner Ruth Conklin – an accomplished artist herself – delights in exploring, capturing and exhibiting the essence of the northern Michigan lifestyle in her gallery.

We warmly invite you to peruse this site and discover the depth of Ruth's longtime passion, from the rolling sands of the Sleeping Bear dunes, a local favorite, to breathtaking Lake Michigan sunsets and majestic white pines. Enjoy!

Please feel free to contact the gallery directly if you see an item that rekindles your own special northern Michigan experience. We're happy to be of assistance!
---
What's New for 2012 at Ruth Conklin Gallery?
Click Here for a 360° Virtual Tour & See!

We welcome you back up North and are thrilled to offer a plethora of fresh local and national artists! This year we feature the works of Michigan favorites Jim Hilton and Louise Hopson, as well as personality plus "animage" candlesticks sculpted by Amy Goldstein-Rice. For more information about any of the featured pieces below, please call the gallery at 231-344-3880.

Thank you for visiting www.RuthConklinGallery.com! We only touched on some of the inspiring work we are privileged to offer our gallery friends and northern visitors. We look forward to greeting you in person and showing you these collections of fine American artistry.


We Wish You Happy Summer Shopping!




---




Animal Sculpture Candlesticks
by
Amy Goldstein-Rice

Amy Goldstein-Rice is drawn to the idea of animal as messenger, interweaving her ideals about her life with classical folk tales and animal imagery of the Native Americans. The animals become talismans that represent or tell a story of some little obsession, vivid dream, or concerns of the world--with a grain of satire.






---






Hand Drawn Ink & Watercolor Prints
by
Jim Hilton






---




Sculpture Bowls
by
Louise Hopkins


Louise creates brightly colored wall pieces, tiles and bowls. "People have a very natural response to bright colors," she said. "As an artist, you're not ony doing the work for yourself, it's to elicit some kind of response. The response I want is for people to be happy."




---





Hand Painted Dog Tiles






---




Runway Handbags
from
Hardwear by Renee

Launched in 2001, Hardwear By Renee is a handbag line specializing in contemporary handbags. The handbags are designed with atypical items such as hardware and recycled materials. The collection features a range of modern colors with a clean urban style.

Sunflower Sculptures
by
Cheryl English

Cheryl's work is a reflection of her "other" passion: gardening. As an Advanced Master Gardener, her abiding interest in things natural – and indigenous – is reflected in her whimsical creations.






---




Assorted Sun Bonnets for Baby






---




Colorfully Fishy
Glycerine Soaps

Stone Lamps
from
Island Granite Works

Located in Wiscasset, Maine, Island Granite Works has been creating beautiful stone products for the home since 1994. Each piece is created from a beach, river or field stone and is distinct in shape, color and texture as only Mother Nature can create. We hope you enjoy...






---




Sand Dunes & Lake Michigan
A Collection of Prints
by
Ruth Conklin



And Lastly, 2012 marks the return of many of Ruth's favorite oil paintings as prints... either framed lithographs or cards. Come into the Gallery anytime this summer to reminisce with Ruth, and browse the entire selection!
---



Ruth Conklin Gallery
6632 M-109 | POB 343 | Glen Arbor, MI 49636


ph: 231-334-3880 | fx: 231-334-3335
Open Daily May 1 to October 31 & Thanksgiving Weekend





© Copyright 2000-11 RuthConklinGallery.com, All Rights Reserved | Web Site Design & Hosting by Northern Web Services, Inc.